Physiotherapy in Osborne Park at Perth Physiotherapy
We aim to provide a quality service for relieving injuries or pain you may be experiencing. All our physiotherapists are fully qualified and registered as Australian Physiotherapy Association (APA) members.
What to expect at Complete Care Health
Thorough assessment and treatment plan tailored to your individual presentation
Guidance to take an active approach to managing your injury/pain
Follow through plan to ensure you leave better than you came in

Soft tissue treatment
Joint mobilisation/manipulation
Dry needling
Taping
Biomechanical correction & retraining
Interferential therapy
Holistic approach to health & wellbeing – because we work in a multidisciplinary environment, you get to enjoy the best combinations of healthcare for your specific condition!
If required, our physiotherapists can directly refer you for X-ray, MRI & Ultrasound scans
Your physiotherapists can help ease transition form injury to wellness by delivering fast, focused effective therapy today!
Perth Physiotherapy
Physiotherapy can help patients recover from injury. Pain is the body's way of warning us that a limit has been reached or a problem has developed. Since our body's are so fantastically innate, we can adapt to pain and minor aches and pains are often shrugged off. If left alone the underlying problem can slowly worsen making it difficult and expensive to resolve.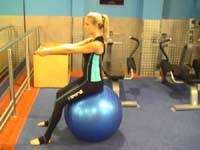 Back Pain Treatment with Physiotherapy
Back pain, stiffness, sciatica, lumbago, disc degeneration and other back or neck issues can be debilitating, preventing you from undertaking normal activities. Back pain treatment with physiotherapy can effectively provide lasting relief, as well as increasing your activities of daily living (ADL's).
Physiotherapists design specific rehabilitation and exercise programs to help each patient recover from injury.
How Physiotherapy Works
Physiotherapy works with combination therapy including spinal mobilisation, sports massage techniques, trigger points, dry-needling and focused rehab exercises. Our body's need correct motion throughout the spine, which if left untreated can interfere with the vital exchange of signals through your body, by irritating nerves and compromising the function of affected organs and tissues. Our physiotherapists can deliver spinal mobilisations and adjustments to your spine and joints to help improve function for improved nervous system control and health.
Physiotherapy Assessments
Physiotherapy assessment, diagnosis and treatment for a wide range of conditions is the best way to detect underlying problems, treat them effectively and or refer for further studies. Our physiotherapists assess each patient using special tests to provide a diagnosis. Your physiotherapist can help you to understand the mechanism behind the trauma and provide ways to avoid further injury. Each patient is provided with an individualised rehabilitation and exercise plan specifically designed to effectively treat each condition.
How Long Will it Take?
Some patients enjoy results quickly while some may take slightly longer. We monitor your progress and modify our recommendations as needed. We try and make each individual patient feel as cared for and special as possible. We want our patients to get back to health as soon as possible, providing ways to empower them to help themselves. Our physios endeavour to promote lifestyle modifications and help each patient design ways to change from the old sickness model of care to the wellness model of care. In short- we should not wait for symptoms to arise before seeing a physiotherapist, but instead follow-up on a monthly basis following recovery from injury. From there we can advise on elective physiotherapy care.
The latest and most innovative introduction of Enhanced Primary care Plans (EPC's) allows GP's to refer individuals for physiotherapy if they have been suffering with a chronic condition for more than 6 months. A chronic condition may include symptoms of musculoskeletal origin like back pain, neck pain, headaches and sports injuries. Physiotherapists work with your GP as part of the team care arrangement for (EPC's). Medicare covers the cost of five $47 treatments in a calendar year and we can help subsidise individuals referred on (EPC's) by their local GP.
We look forward to helping you,
The Perth Physiotherapy Team
---
Your leading Osborne Park Physiotherapy clinic with experienced professionals